"My safe word is 'Hey, stop doing that!" ~Wendy Miller, ACS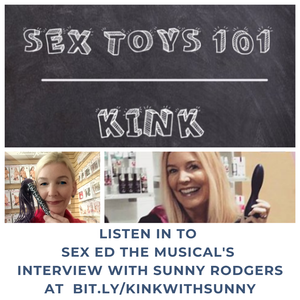 In this fourth segment of Sex Ed The Musical podcast's 4-part series on pleasure products, I spoke with my friend and fellow sexologist Wendy Miller about all things Kink! 
Listen in below! 
What is Kink? A recent vice.com article described KINK as: 
"…any kind of sexual activity or desire that falls outside the realm of culturally sanctioned norms, which, in our rigid, puritanical society, is basically everything that's not penis-in-vagina, monogamous, hetero, married, missionary sex with the end goal of making babies." 
Or maybe…kink is fun between consenting adults? 
On this episode, my final chat with Wendy, we give you an intro to the world of kink, fetish, restraints, power play, sensory play, and how to make sure you get the perfect starter ball gag. ;-)
If you've ever been blindfolded, restrained by a silk tie, or looked at a riding crop longingly, you know there's all sorts of fun to be had out there and there's nothing wrong with fetish play between consenting adults. After all, millions of people read 50 Shades of Grey so kink is here whether we like it or not. 
"Now put on this collar, get on your knees, be silent and listen to this episode until I tell you otherwise." ~Wendy Miller, ACS