Hi David,
Thank you for reaching out! I appreciate your patience - it's been pretty busy lately with a lot of awesome questions about sex toys. 
I frequently get questions just like yours. Prostate massage is becoming more and more popular in the media and in doctor's offices, so it isn't surprising that there are a lot of people wanting more information.
David, let's begin with a simple question – "What is a Prostate?"
The prostate is a small, muscular gland about the size of a walnut, which is located between the bladder and rectum of men. 
While the prostate is an internal organ, the back of the gland can be felt through the lining of the rectum about a finger's length from the external opening of the anus.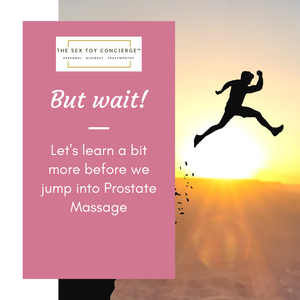 First, choosing a lubricant is essential when using fingers or sex toys because the rectum is not self-lubricating.
Silicone lubricant is usually better for anal play and prostate products because it is slicker and lasts longer. However, water-based lubricant has fewer chemicals and is easier for clean-up with no residue. (Because the rectal canal is a moisture permeable membrane capable of transmitting soluble chemicals into the bloodstream, I usually recommend lubricant that is more natural and always lean towards water-based lubes - but this decision is yours to make. I suggest you choose a few to try in order to determine what works best for you, David.) 
If you're looking for a water-based lubricant, but find that most are "runny", I have one that may work for you. Swiss Navy's Water-based Lubricant is unique in that it comes out like a gel and liquefies with friction, so it stays where you put it (on your finger or your sex toy). Plus, water-based lubes are less likely to break down sex toy materials like silicone lubricants can cause to happen.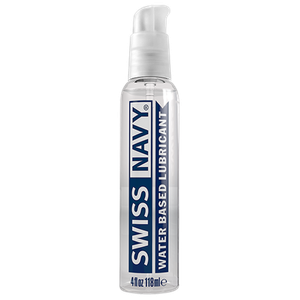 As for prostate massagers, I do have a favorite brand that I recommend - Aneros. They are physician-designed, silicone material, and made in Texas. Their smallest style is called Eupho.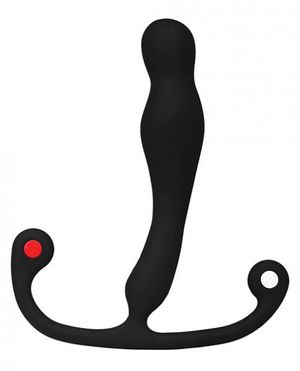 On the bottom of Aneros' prostate massagers are two arms that branch out in different directions. To make sure the massager is facing the right way, the longer curvy handle goes toward the back and is used for easy removal. The shorter arm that curls in the opposite direction goes toward the front of the body and provides additional stimulation to the perineum. The tip of the massager should go in towards the front of the body, it should be curved for a front-facing fit. 
OK, David - Let's Get To It!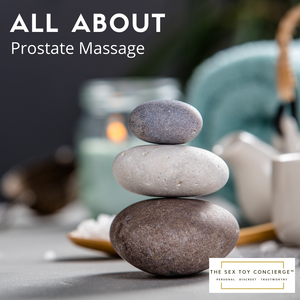 David, insertion is going to happen. And I suggest 3 things to remember for anal insertion: lots of lube, a comfortable position, and relaxation.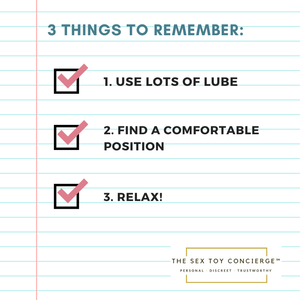 Remember that lubricant choice we talked about earlier, David? I suggest using plenty of it and reapplying often.
I've found the best position for most men is laying on their side in a slight fetal position. The Aneros products will match the curve of most bodies in this position, so it usually feels best. 
I know it may be difficult - but try to relax. And don't forget to breathe!
Insertion Tips (fingers and prostate massagers):
If you feel toward the front of your body with your finger inside your prostate, you should be able to locate your walnut-shaped gland, which is soft and spongy. If using a prostate toy, the massager is created to press against your prostate. 
Go very slowly. When you begin, take a deep breath and blow out as the finger or prostate massager is inserted. Another trick is to slightly push out the rectum as though on the toilet. This will help open the anus. Never force or shove! Just breathe into it and take your time. Often it will feel like the item is being pulled in once the tip is half way in. This is natural. There is quite a bit of suction in the rectum. That's why using a prostate massager with a base is so important.
Manual Stimulation
With your finger inserted, the easiest way to massage your prostate is to squeeze your pubococcygeal (PC) muscle, which both men and women have supporting pelvic organs—the urethra, bladder, and bowel. These are the muscles that you tighten that make your penis "bounce." With your finger on your prostate gland, squeezing and releasing your PC muscles will naturally massage your prostate. For extra stimulation, use the "come hither" massage mentioned above. 
Prostate Massager Stimulation
Once the prostate massager is inside, it will be pressing against the prostate gland. Aneros products are designed very well to reach the correct area. The easiest way to massage the prostate is to squeeze the PC (pelvic floor) muscles, which will cause anal muscles to tighten and pull up/inwards. The front tab on the Aneros product will pull into the perineum, which will cause the arm to move and the product inside will subtly massage the prostate. When the PC muscle is relaxed, the massager will return to its original position. So, by squeezing and releasing your PC muscles, the Aneros massager will naturally massage the prostate. You can also push forward gently on the arm to stimulate the prostate manually. 
Trust me, it may be a bit uncomfortable for the first few times. But many men come to enjoy prostate massage and prostate stimulation, especially when they find out the benefits associated with the practice.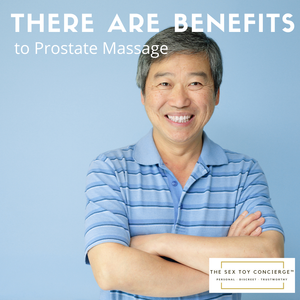 Perhaps we should save the benefits for a future conversation, David.
But, I would like to leave you with a couple more suggestions. 
Since Aneros is a silicone material product, I recommend anti-bacterial soap and water for cleaning, and I always recommend allowing the toy to air-dry naturally. Since it's not vibrating, it can also be washed it in the top section of a dishwasher or boiled (but wait till it cools to use). Silicone is a very hygienic and durable material, but it's always best to clean anal products before and after every use. Silicone material is also incredibly smooth for an easier entry—think less friction!
When storing the prostate massager, make sure it doesn't touch any other toys because sometimes the materials will react with each other. Silicone lubricant can also cause the silicone material to degrade, so this is something to keep in mind. 
I hope this information is helpful, David! Please contact me if you have any other questions or if you would like me to select a personalized Sex Toy Concierge pick just for you!
xo,
Sunny 

Are you excited to choose your first sex toy? Are you curious about different types of sex toys? Please send me your questions and comments! I'm always here to help YOU. 
 
*This post contains affiliate links, so we may earn a small commission when you make a purchase through links on our site at no additional cost to you.