Hi Dave, 
Thank you for reaching out! I know there are a lot of others with the same question. Let me walk you through an easy decision process for sleeves, strokers, masturbators, or whatever you wish to call them.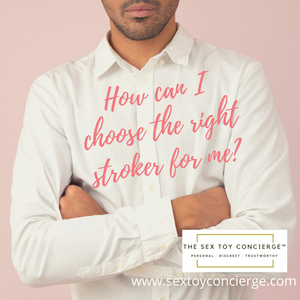 Step 1 - 
Decide on an Orifice 
Visual elements can really enhance sexual enjoyment, which is why male masturbation sleeves come in a variety of designs. They may be designed to look like a vaginal entrance, an anal entrance or a set of soft lips. For those that don't think they'd enjoy any particular look, some male masturbation sleeves also come with an entrance that is neutral and functional in appearance. 
Step 2 - 
Pick your Material 
Sleeves come in a multitude of materials.
Most of these materials are soft and stretchy, as these provide the most pleasure. However, soft and stretchy materials do vary.
Sleeves made of jelly materials are extremely affordable but sometimes have a strange odor and some people may find the texture unusual.
TPE or TPR rubber male masturbation sleeves are generally odorless and just as stretchy as jelly ones, but they may be more expensive as well.
There are several male masturbation sleeves that are made from silicone, but because silicone is not nearly as stretchy as the other materials, some guys have difficulty finding the perfect fit with a silicone sleeve.
As always, material is a personal preference. If you dislike the first one you try, you should experiment until you find a material that you personally enjoy.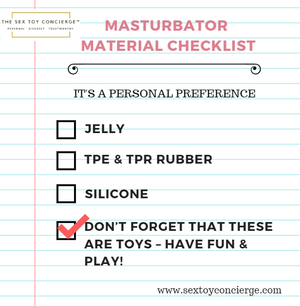 Step 3 - 
Identify the Right Sleeve Size 
Every penis is unique. Your personal length and width could be very different than someone else's. For that reason, most male masturbation sleeves are made in various lengths and widths.
While the average sleeve is designed for the average guy, if you find that things are too snug, you may want to consider trying a different size, material or brand.
Remember that stretchier material will allow the sleeve to stretch out more with use.
Step 4 - 
Consider Penis Size 
Along with the size of the masturbation sleeve itself, you need to consider the size of your penis.
If you want to be able to sink fully into a male masturbation sleeve, ensure that it's at least as long as your penis - and if you want to experience the intense textures at the very end of the sleeve, ensure that the sleeve is sized accordingly.
The point is not to stress about your penis length, but rather about searching for the right fit - there will be a penis sleeve that fits you perfectly. 
Step 5 -
Decide on Vibrations 
While many male masturbation sleeves don't come equipped with a vibrating function, some do.
In many cases, these vibrations come from a vibrating bullet or other toy that can be removed from the sleeve when vibrations aren't desired.
If you think the extra sensation would enhance your experience, find a toy that offers a vibration feature.
Step 6 - 
Understand Suction Choices 
Masturbation sleeves can come with different types of suction options.
Open-ended sleeves make for simpler clean-up after use, but they can't provide the same amount of suction and pressure because they don't have a closed end.
Closed-end masturbation sleeves trap air for a tighter feeling, but keeping them clean can be a bit of a pain.
In some affordable luxury items, like a Satisfyer Men Classic Masturbator, the sleeve is encased in a hard travel case, but can be removed for easy cleaning.
If a closed-end stroker provides too much suction, consider cutting off the end of a soft sleeve to lessen the vacuum. 
Step 7 - 
Think About the Extras 
Manufacturers of male masturbation sleeves often go to great lengths to add value to your purchase. In many cases, the packaging has been especially designed for an arousing appearance.
Some masturbation sleeves are intricately designed in the image of a famous adult star, to bring your fantasies to life. In some cases, purchase of the sleeve may include an adult DVD, or a signed picture of an adult starlet. These are all extras and whether you take advantage of them depends on your own, personal preference.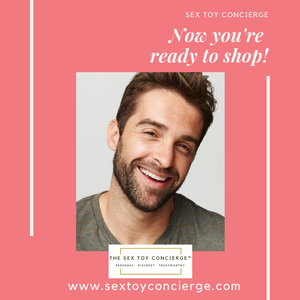 Use these suggestions to narrow your choices and get a general idea of the type of male masturbation sleeve you want to use.
Once you find the perfect sleeve, you'll get to experience all types of new pleasure.
Hope this helps! Please let me know how it goes for you, Dave.
xo,
Sunny 

Are you excited to choose your first sex toy? Are you curious about different types of sex toys? Please send me your questions and comments! I'm always here to help YOU. 
 
*This post contains affiliate links, so we may earn a small commission when you make a purchase through links on our site at no additional cost to you.