Surprise! 
It's National Topless Day!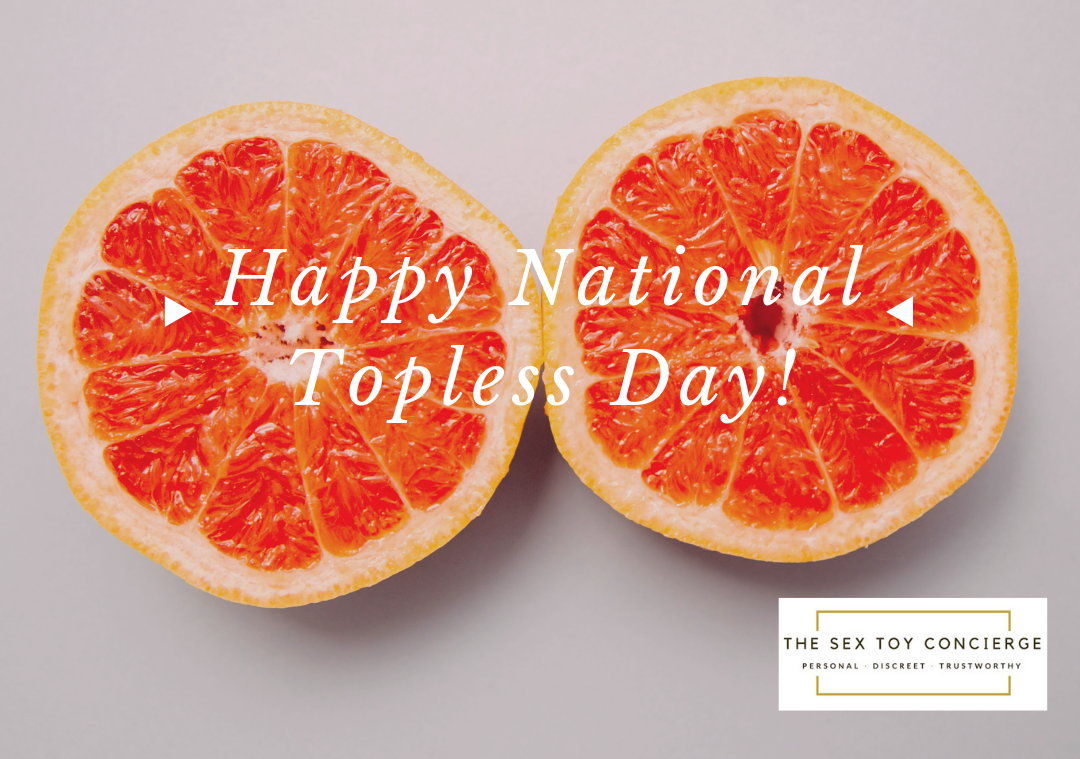 Why in August? On August 26, 1920, following a 72-year struggle, the U.S. Constitution was amended to grant women the right to vote. And in 1970, as an ongoing reminder of women's equality, Congress declared August 26 "Women's Equality Day."
GoTopless.org claims that women have the same constitutional right to be bare-chested in public places as men.
Maitreya Rael, spiritual leader and founder of Gotopless.org, states: "as long as men can be topless, constitutionally women should have the same right or men should also be forced to wear something hiding their chest."
Why a National GoTopless Protest day? Gotopless.org claims constitutional equality between men and women on being topless in public. Currently, women who dare to be topless in public in the US are repeatedly being arrested, fined, humiliated, and/or criminalized.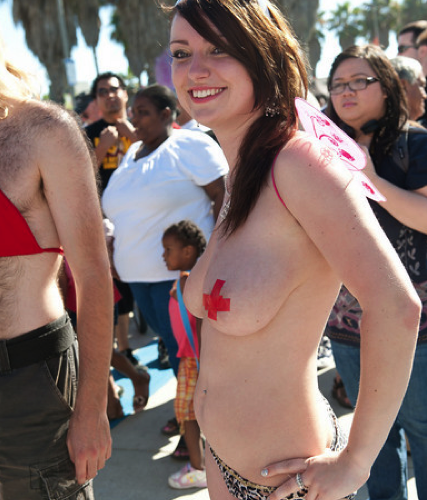 So, what can YOU do?
Enjoy Your Top!
One way to celebrate the day, even if you wish to remain clothed, is to give your breasts and nipples the attention they deserve. 
I recommend checking out the delightful pleasure products by Fantasy For Her that have been created to provide breasts and nipples titillating love. Pictured below are the Fantasy For Her Vibrating Nipple Suck-Hers, the Fantasy For Her Vibrating Breast Suck-Hers - both of which provide suction plus vibration - and the Fantasy For Her Nipple Enhancer Set that offers personal suction in multiple sizes.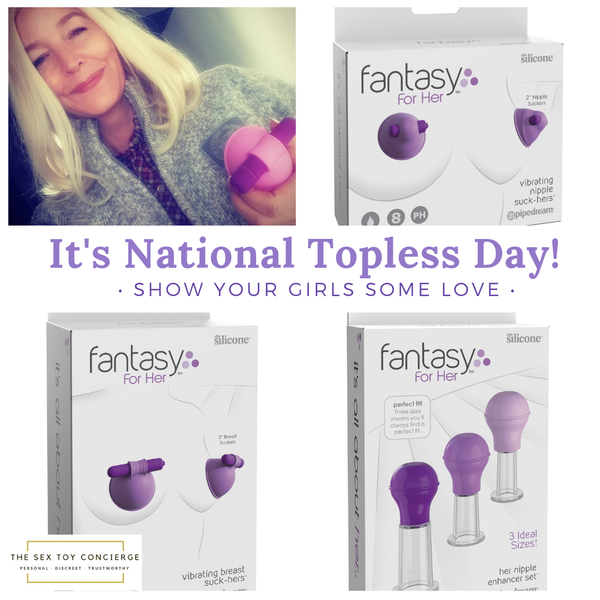 Let's Talk Nipplegasms!
There is fMRI scanner research by a team of researchers at Rutgers University showing that nipple stimulation activates the same part of the brain that responds to genital stimulation, hence the possibility of nipple orgasms for some people. 
Nipples are sensitive erogenous zones which are connected via energy channels to the clitoris on women and the frenulum (considered the "male clitoris" as it is the most sensitive part of a penis) on men. According to the book, Healing Love through the Tao: Cultivating Female Sexual Energy, the Kidney meridian passes through the breasts and when the nipples are stimulated, so too are the kidney and bladder, which in turn helps activate the sexual glands. Thus, stimulation of the nipples will cause arousal of the whole genital area. Continued stimulation of the nipples can result in an actual orgasm. 
How To Give Your Partner A Nipplegasm  
Circle the pigmented portion of the nipple with your fingers or mouth until the nipple becomes hard.
Then stimulate each nipple with gentle rubbing or slight pinching. You can use fingers, a vibrator or a mouth to arouse nipples. 
Be patient and try different pressures of touching, rubbing, pinching, pulling, kneading, and twisting nipples to explore sensations and to determine which provides the preferred form of arousal. 
You and a partner can try experimenting with licking, sucking, nibbling or biting nipples depending on the level of nipple play. 
The harder the nipples become, the more sensitive they are to direct stimulation.
At this point, you can stimulate both nipples at the same time, incorporating pulling and sucking. Much like the moment before other orgasms, don't stop but don't keep going full steam until an orgasm is reached.
*&@#()!!!! And.... cue the fireworks!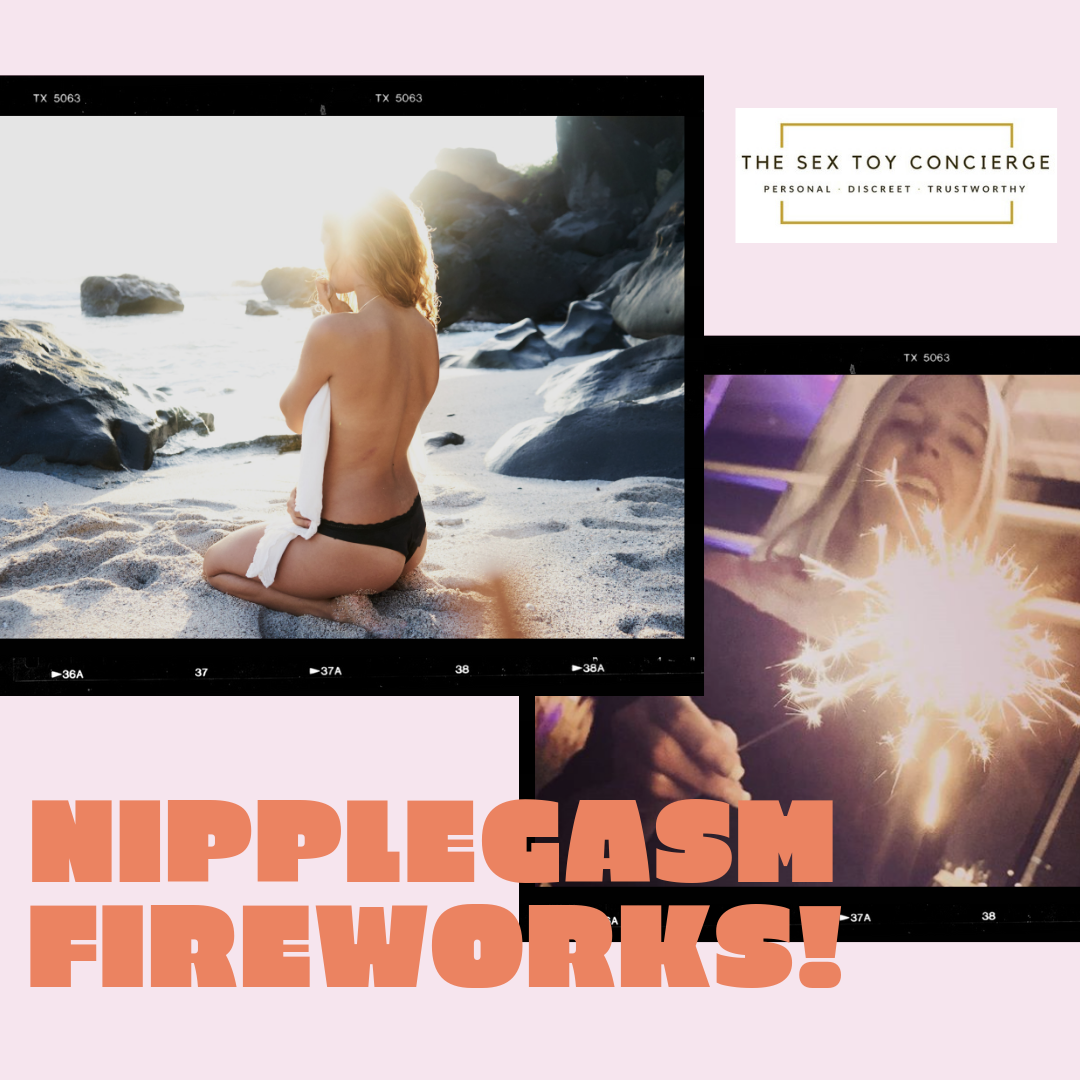 ---
Whatever way you wish to celebrate National Topless Day, I wish you the very best! 
xo,
Sunny

Are you excited to choose your first sex toy? Are you curious about different types of sex toys? Please send me your questions and comments! I'm always here to help YOU. 
 
*This post contains affiliate links, so we may earn a small commission when you make a purchase through links on our site at no additional cost to you.