Lol random question but I know you are probably best person to ask but I want to get a strap on dildo where would I go and how do I get one.... I know I can online but I have no clue what I'm doing lol cheap though but functional ~Anonymous
Hi Anon, 
There are a lot of people who are also wondering where to start when it comes to trying a strap-on. You've come to the right place! 
Choose your dildo first. This is because the right size and shape for you and your partner is the most important decision you'll make. Factor in your material choice as well. Once you find the right size, shape, and material of dildo for you both, then you can determine which strap-on harnesses will work with your choice. 
Dildo size and shape is a personal preference. Determine whether your first strap-on dildo will be used vaginally or anally. If anal pegging is what you have in mind, just like with anything else new – start small. Before you even think about putting on a harness, start with a very slim anal plug and slowly increase sizes from there over the period of several weeks. The better prepared you and/or your partner are, the better and more pleasurable the experience will be for both of you. This also gives you several weeks of mental foreplay leading up to your first pegging experience, which is a huge turn-on in itself! 
If you do want to "practice" with an anal plug, I recommend only using a plug that has a flange or ring at the base. There is a great deal of suction at the entrance to the anus and rectum, and once something passes sphincter muscles it can be drawn up further into your body via this vacuum effect. 
A good plug for a beginner is the NEON Butt Plug, which is slender and has a flange. It's also very flexible so it'll be more comfortable as well.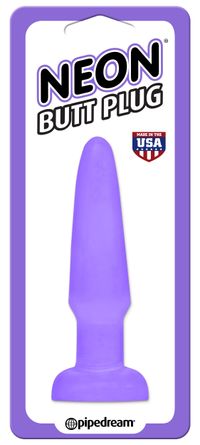 Also, the rectum doesn't self-lubricate so I recommend using a lot of lubricant and reapply as often as needed. Silicone lubricants are more popular for anal play than water-based lubricant because they last longer and have a slicker formula. However, because the rectal canal is a moisture permeable membrane capable of transmitting soluble chemicals into the bloodstream, I personally recommend natural, water-based lubricants that have fewer chemicals and are easier for clean-up with no residue. The Jimmyjane Organic Personal Water-Based Gel Lubricant has a thick water-based formula designed to offer extra padding during anal activities. The decision on which lubricant to use is a personal preference but I advise taking the time to learn about the different options that are available. And, if you have questions – please send them my way! ?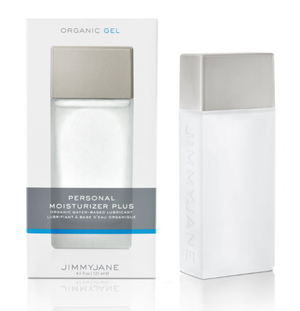 Don't be surprised if there's an anal orgasm in your future! Many couples have found that they both have stronger orgasms with anal sex play. There are a multitude of sensitive nerves located in the anal region and many couples relish in how responsive their partners are at the slightest touch. Anal intercourse can be a way to share sex play experiences that are intense and bonding for both partners. 
What's the best beginner's position for anal sex? My go-to tip, especially for beginners, is to have the receiving partner back up onto their partner's penis. This way the receiving partner can be in control of the speed, depth, and movement, which in turn will allow for a more enjoyable experience. Also, laying on your side with your legs bent at the knees and pulled forward slightly is the best position for rectum muscles to be totally at ease, so trying a spooning position where the receiver backs up may be the most comfortable for a first timer.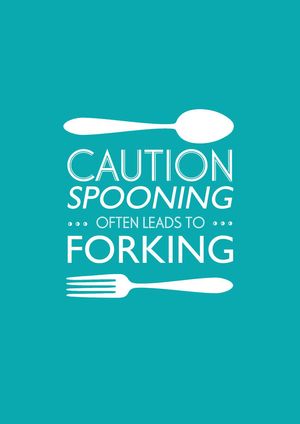 What's an important thing to remember about anal pleasure? I tell people to always go slow and don't force anything – be it a plug, dildo or penis. There are two ringed sphincter muscles and just like any other muscle in your body, there is a possibility of a muscle tear or injury. This is why it's very important to use copious amounts of lubricant, and to relax and take your time.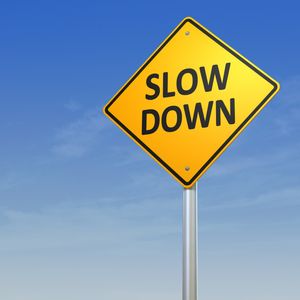 Also, I think it's a great option to try wearable plugs. I think both partners will be mentally stimulated by knowing that one of them is wearing a small anal plug. There's something sexy about knowing that you're wearing a slender anal plug during dinner out that your partner will remove during foreplay after dinner. This will also make anal sex play more comfortable as well. 
If you're thinking of a strap-on for vaginal play, I still recommend starting small to begin. 
And, while silicone is the best material to use because of being hygienic and warming to body temperature for a more comfortable experience, it can be quite costly. So, consider using PVC, TPE or TPR rubber products to begin before investing in a silicone product. If you'd like to know more about material options – just let me know! ? 
Once your dildo is chosen, then choose your harness. Most harnesses will come with three different sized O-rings so they can accommodate a wide assortment of dildo options – and can grow with your strap-on adventures as you add new dildos to your collection.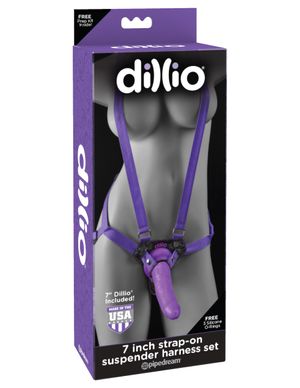 Harnesses usually have stretchy material that can accommodate a variety of sizes. I personally enjoy the suspender harnesses because the not only offer more support and control, I feel like the suspender straps add some sexiness to the harness. A personal favorite is the Dillio Harness Set, which also features a 7-inch strap-on at an affordable price. 
So, Let's Recap - 
Choose dildo (keep size and material in mind). 

Choose

harness

system. 

Practice first! 

Start small. Start slow. 

Use LOTS of lubrication!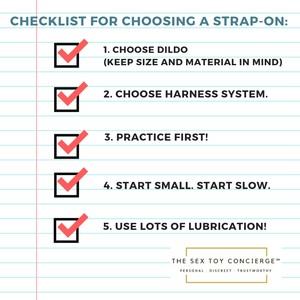 And, a final word of advice – COMMUNICATION is key! Remember to discuss this experience and how you are thinking it'll be so that both partners know what the expectations are.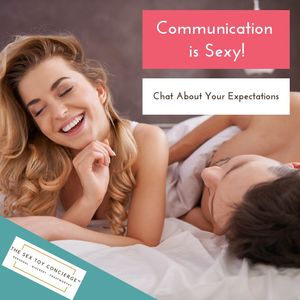 Please let me know how your strap-on experience goes and feel free to reach out if you have any other questions that I can help with. 
xo, 
Sunny