2 Turtledoves... Become 2 Nipples!  
Celebrate the season with some extra Nipple Love – perhaps even experience your first Nipplegasm!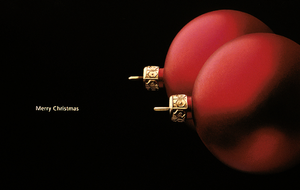 The nipples are an important erogenous zone. They are connected via energy channels to the clitoris, and thus, stimulation of the breasts will cause an arousal of the clitoris and the whole genital area.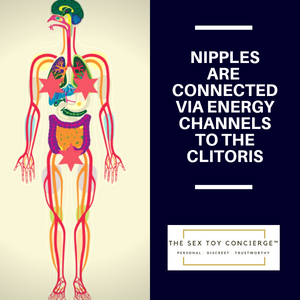 Continuous stimulation of the breasts and nipples can result in an actual orgasm or can bring about more quickly and easily the onset of an orgasm when vaginal stimulation is applied.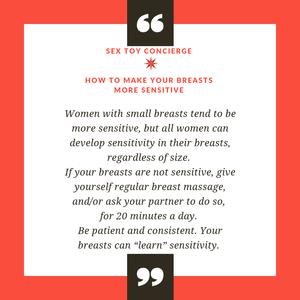 For this second night of The Sex-mas Countdown, celebrate the incredible pleasure that nipples can bring! If you're wondering what intimate pleasure products would work well for nipple love, I do have a few suggestions for you!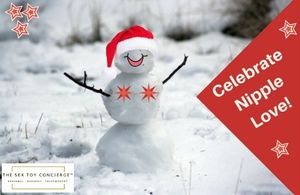 The Fantasy For Her collection has Vibrating Nipple Suck-Hers and Vibrating Breast Suck-Hers that work well for giving your sensitive upper body a thrill. And since this is the Season of Giving, share them with your partner so you both can enjoy orgasmic pleasures. 
Also, if you happen to have large-sized areolas, the Vibrating Breast Suck-Hers will most likely work for you. 
Sex Toy Concierge Tip! Since sex play can get bumpy sometimes, I suggest placing these Suck-Hers inside your bra so you don't have to worry about them flying off and becoming a dog toy ?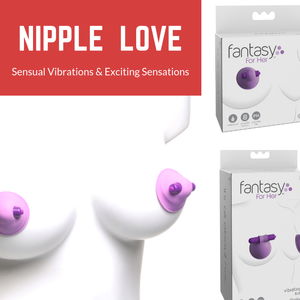 My next recommendation is particularly fun because this item reminds me of a cock ring – but for your nipples! These Nipple Erector Sets  - Fetish Fantasy Limited Edition Super Suckers and Fetish Fantasy Nipple Erector Set  - have delicate nipple pumps for nipple play, but also have tiny O-rings that can be slide onto nipples to keep them erect. (Might be why those are called O-rings!)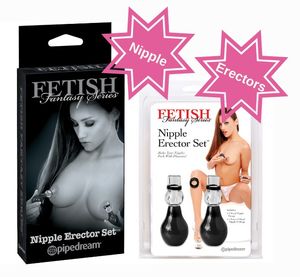 If you're wishing on a Christmas Star for convenient nipple vibration – check out these Fetish Fantasy Series Wireless Vibrating Nipple Clamps! Naughty, Nice, or somewhere in between, these are great for Celebrating Sensation! 
Just like hanging a beautiful ornament on your holiday tree, these cute, lightweight nipple clamps hang right from your nipples. These long winter nights give you plenty of time to try these both with and without vibration.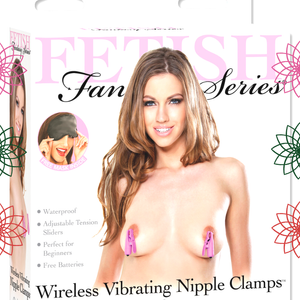 Are you ready for a Nipplegasm?
Be patient and remember – HAVE FUN!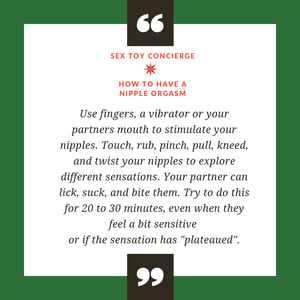 Yes, you can give a man a nipple-job! Isn't this something to celebrate? 
It is possible for men to experience a nipple orgasm. To do this, circle the pigmented portion of the nipple with your fingers or mouth until the nipple becomes hard, and then stimulate each nipple with gentle rubbing or slight pinching. 
The harder the nipples become, the more sensitive they are to direct stimulation. At this point, you can stimulate both nipples at the same time, and incorporate pulling and sucking on his nipples as well. Much like the moment before a woman orgasms, don't stop but don't keep going full steam, until he climaxes.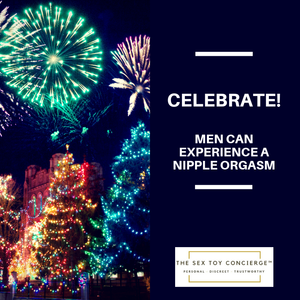 I hope you CELEBRATED Night 2 of the Countdown to Sex-mas!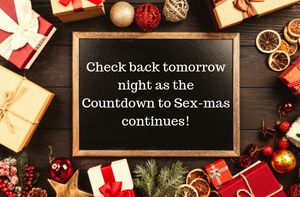 xo, 
Sunny