The Holiday Season is the perfect time to SPARKLE & SHINE!
Life glitters and shines like no other time of the year. And, it's the time to share some sparkling love with your lover – and you'll both benefit from the GLOW of great sex play! 
You don't have to wrap yourself in twinkle lights to Shine this Season!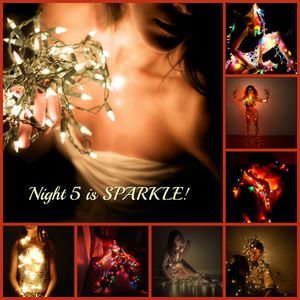 When I think of SPARKLE, I think of Twinkling Gold… which signifies Richness and Warmth. 
Consider adorning your lover with gold from head to toe! For the upper body, I would consider a couple of nipple-focused items from the Fetish Fantasy Gold collection. Gold Nipple Clamps are sparkling nipple decoration that applies just the right amount of pressure to excite your lover's nipples – while the gold chain sways with every move, increasing sexy sensations.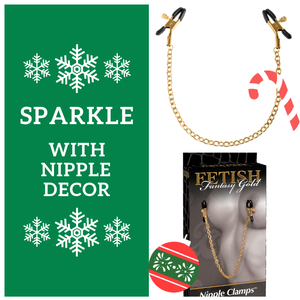 If you'd like to keep the sensation play focused on the nipples, another great shiny option are the Fetish Fantasy Gold Magnetic Clamps. Both luxurious gold clamps are jeweled at either end, creating a gorgeous Nipple Ornament – that also applies a satisfying squeeze when worn.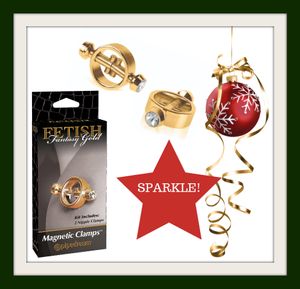 Moving down your own or your lover's body… it doesn't get much sexier than the Fetish Fantasy Gold Vibrating Micro G-String Set! This super-sensual G-String has sparkling gold chain accents and includes a gold bullet to tickle intimate fancies.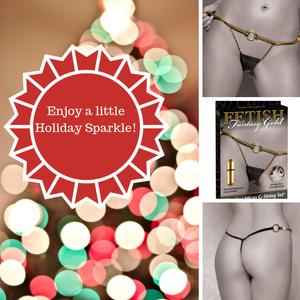 Butt, literally, if you want to shower sparkles of excitement on your lover – you might consider giving a Bejeweled Butt Plug a try! 
If you want to coordinate with your gold nipple ornaments, the Fetish Fantasy Gold Mini Luv Plug is a crystal-adorned gold butt plug that's delicately-sized. The gold surface is shiny and smooth, and the crystal at the base of the plug is sparkling bright!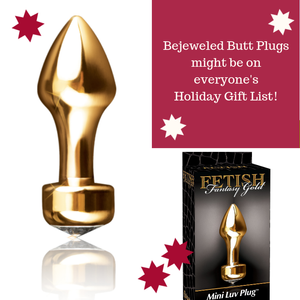 If you'd like to just try a crystal butt plug, I recommend the Icicles No. 79 hand-blown glass anal plug with a blush pink tone which reminds me of Holiday Sunsets. The slim design is incredibly smooth. And, the crystal at the base of the plug has facets just like an expensive jewel. Each facet reflects light and gives off a sparkling glow - just like real gems!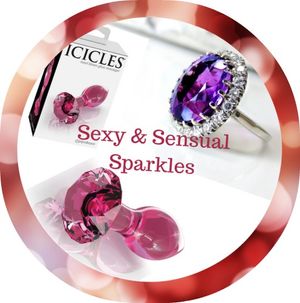 Sex Toy Concierge Tip! For you anal play beginners, glass and metal are very rigid surfaces. I don't suggest them for anyone who hasn't had anal pleasure product experience. I do recommend starting with an anal plug that's flexible and softer for beginners. While metal and glass are amazing because they glide so smoothly without resistance, I would save these until you've practiced with a flexible butt plug first.
Thank you for allowing me to share some Sparkling Ideas to make your Holiday Sexy and Shiny!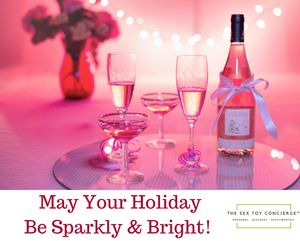 I hope your Holiday Season is Bright, Light, Luminous, and filled with Happiness!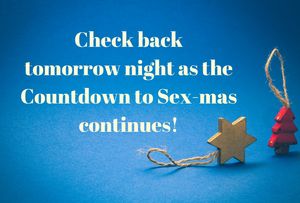 xo, 
Sunny