Hi Alex,
Do you know what today is? April 18th happens to be National Anal Sex Day! I'm happy you're thinking about celebrating.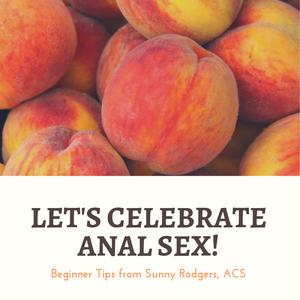 Well Alex, please let me share that this is probably the most common question that I get. You are not alone!
If you're new to any type of anal play, a simple, small pleasure product is where you should begin if you want to become accustomed to what anal insertion feels like.
The NEON Butt Plug is a very petite, slender anal toy that's made from a flexible material, PVC. This NEON Butt Plug is the size of a slender finger and is perfect for beginners.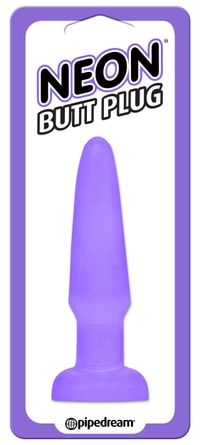 Anal beginners should shy away from anything rigid or inflexible, such as glass or metal. For an anal beginner who wants to try a toy that will help them prepare for anal intercourse, use a toy that is smooth, flexible and has a flange around the base.
There's a saying I should share with you, Alex - Without A Base, Without A Trace! Because the rectum has such incredible vacuum suction, making sure the intimate pleasure product you choose has a base is important for safety.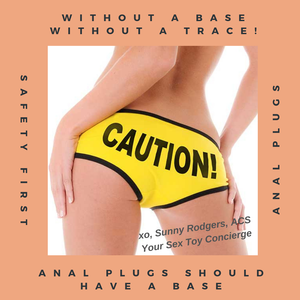 Keep in mind that it can be sexy to know that you're wearing a slender anal plug while on a date and that your partner will remove it during foreplay later. This will also make anal sex play more comfortable. 
Before trying anal sex play, get to know your bottom first. Take time to explore your anal region. Discover which areas are sensitive. Massage the outer part of your anus before placing your finger inside. 
Remember to take your time and go slow. Anal orgasms can be incredibly intense and can often be felt throughout the entire pelvic floor.
My #1 Anal Sex Tip for Beginners 
Have the receiving partner back up onto their partner's penis or strap-on toy rather than having them insert into the receivers' rear. This is so that the receiver can go at their own pace and can control the insertion and their own comfort level, which will allow for a more enjoyable experience.
Laying on your side with your legs bent at the knees and pulled forward slightly is the best position for rectum muscles to be totally at ease. A spooning position where the receiver backs up may be the most comfortable for a first timer.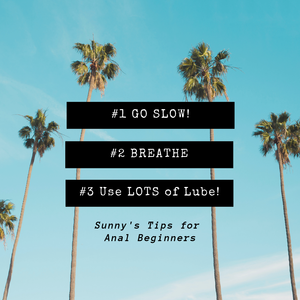 Guess what? The rectum doesn't self-lubricate!
I recommend using a lot of lubricant and reapplying as often as needed.
The rectal canal is a moisture permeable membrane capable of transmitting soluble chemicals into the bloodstream so I like natural, water-based lubricants that have fewer chemicals and are easier for clean-up with no residue. Gel lubricants can have a thicker water-based formula designed to offer extra padding during anal activities.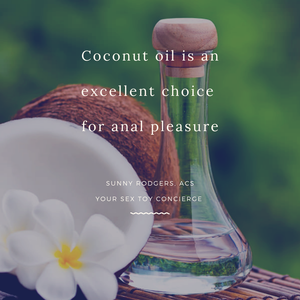 Coconut oil is an excellent choice for anal pleasure because it's antibacterial, antifungal, anti-inflammatory and is very nourishing to delicate anal tissue. Keep in mind that coconut oil does degrade latex condoms. The decision on which lubricant to use is a personal preference but I advise taking the time to learn about the different options that are available.
If anyone has questions about lubricants - Please let me know!
Alex, I'm excited for you to try this new pleasure adventure! Please let me know if there's anything else I can assist with. 
xo, 
Sunny