Hi Lily, 
It's that time of year again! Everywhere you look you're seeing 'Anal August' and your curiosity is getting the best of you.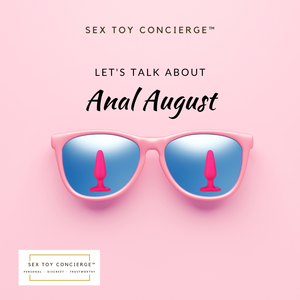 Hey, I understand. There is a mysterious pull to anal play that is undeniable—especially this time of year! 
Well Lily, I do have a few Sex Toy Concierge Personalized Picks that I've chosen myself to help inspire and guide you. 
Lily, thank you for letting me know your level of Anal Expertise 😉 This helps me make better recommendations for you. 
If this is your first foray into anal play, and it sounds like it is, I suggest you start by yourself. I think you'll want to learn about the sensations that can happen during exploration in this area. 
The anal area is RICH in nerve endings, which can be quite sensitive, especially if you've never played in this area before. 
A good place to start is with simply using your finger to explore this area. Be sure and wash your hands and trim your nails! 
Be gentle with yourself and don't try to force any exploration that doesn't feel comfortable.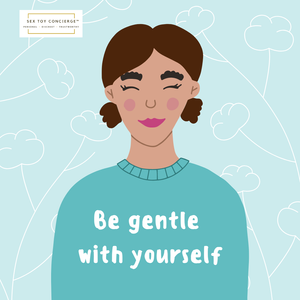 Lily, if you're ready to try a toy, start small. Consider something like B-Vibe's Novice Plug, which is perfect for those who are anal-curious.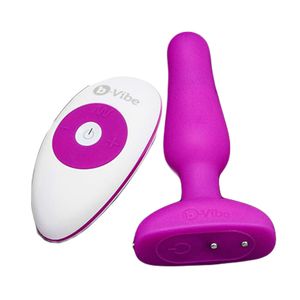 7 Reasons why this is a good Beginner Anal Toy: 
It's slender. 
It has a smooth, tapered tip. 
It has a tapered bottom (this is important, Lily, since the rectum has A LOT of vacuum suction). 
It's flexible (this is important for comfort since no two bodies have the identical curves and contours). 
Did I mention it has vibration? Gentle vibration can help relax the anal muscles. 
Those vibrations can be controlled with a handy remote control. (Now Lily, this is good to know since it means if, in the future, you want to wear this B-Vibe's Novice Plug out on a date and give the remote to your partner as part of Date Night Foreplay – well, having this petite remote will come in handy.) 
Oh! And, it's made of silicone, which is a GREAT material because it's hygienic and hypoallergenic, and can warm to your own body temperature (no need to experience a cold butt plug, unless you're into that, of course.) 
Lily, I recommend toying around the outside of your rectum first before inserting just so you can get used to those new sensations. 
What's that? Your lover wants to try actual Anal Sex? 
I have advice for you here too, Lily. For instance, an anal trainer set can be essential for preparing for comfortable anal play experiences. 
I suggest this clever set – B-Vibe's Anal Training Kit & Education Set.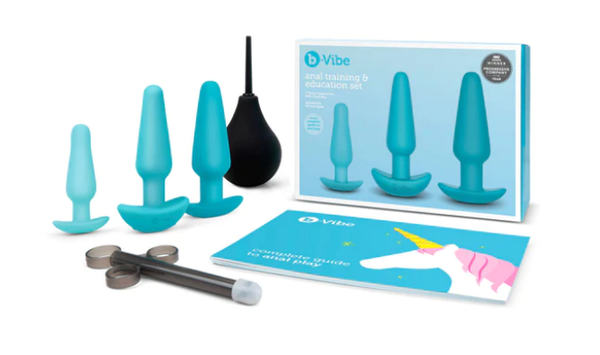 Anal trainer sets can gradually loosen tight anal muscles in a gentle way. This set also includes an anal douche to help make you feel more comfortable and well-prepared for anal play experiences. There is also a lubricant applicator to reach those deeper regions. It truly has everything you may need to get started. 
But Sunny, I want something PRETTY! 
Yes, I know what you're thinking. Mentally, you've moved past your exploration and anal sex experience and are moving into how to find a butt plug that can be visually stunning and can help make YOU feel sex. 
I've got you, Lily! And while I don't recommend metal anal plugs for beginners because of their rigidness, I'm currently in LOVE with this gorgeous Rianne S Booty Plug Set that has sparkling gems in each base.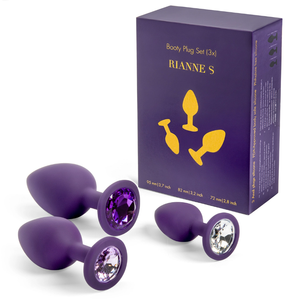 The Rianne S Booty Plug Set has 3 flexible silicone butt plugs in 3 sizes – Small, Medium, and Large. All 3 Booty Plugs have a lovely crystal in their base - crystal clear, soft lavender, and a deep, rich purple. Think of all the wardrobe pairing opportunities, Lily! 
One last thing, Lily, DON'T FORGET LUBE! 
The rectum is not self-lubricating, so using a lubricant for any type of anal play is essential. Trust me. 
Since the products I've personally chosen for you are all made of silicone material, a water-based lubricant would work best with them. 
I like Desire's Water-based Intimate Lubricant because it's made by women, for women.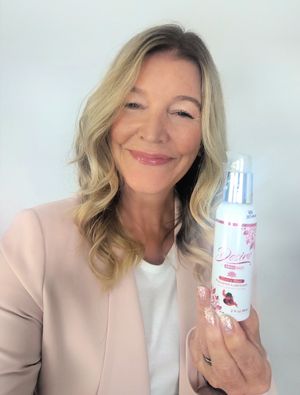 Desire's Water-based Intimate Lubricant has a rich formula that magically turns into slippery silk with a bit of friction. And, it's sex toy compatible too. 
Just remember, apply as much lubricant as you need and feel free to re-apply as desired.   
Lily, thank you for reaching out to me! However you choose to celebrate 'Anal August', I hope these curated recommendations inspire your please options. 
xo, 
Dr. Sunny

Are you excited to choose your first sex toy? Are you curious about different types of sex toys? Please send me your questions and comments! I'm always here to help YOU. 
 
*This post contains affiliate links, so we may earn a small commission when you make a purchase through links on our site at no additional cost to you.